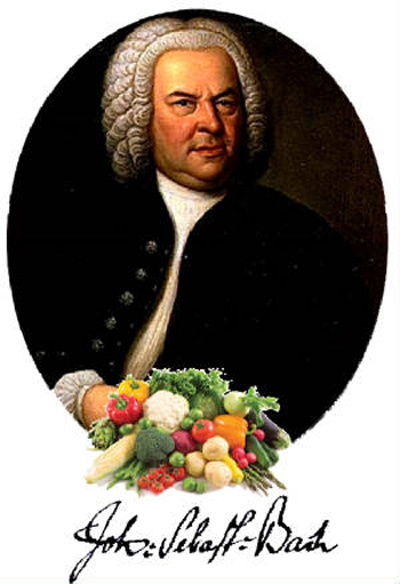 The holdings of the Bachhaus in Eisenach include a polished goblet that was presented to J.S. Bach around 1735; the word VIVAT inscribed on it was meant as an invitation to enjoy a glass of wine.
Sources including letters, pay slips, stipends, and the 1750 catalog of his estate suggest that Bach's life was sometimes cheerfully informal. The table of this choral street-singer, organist, cantor, court musician, and municipal music director—whose salary as an employee was, throughout his life, paid not only in money but also in kind (grain, fish, beer, wine, wood)—was abundantly set for his large family and for the many welcome guests, and his comfortable standard of living was provided for on a corresponding scale.
This according to Zu Tisch bei Johann Sebastian Bach: Einnahmen und "Consumtionen" einer Musikerfamilie by Walter Salmen (Hildesheim: Georg Olms, 2009).
Below, Bach's jovial Mer hahn en neue Oberkeet ("Bauernkantate"), BWV #212, which includes the encouraging words "Wave if you're thirsty!"
More posts about J.S. Bach are here.