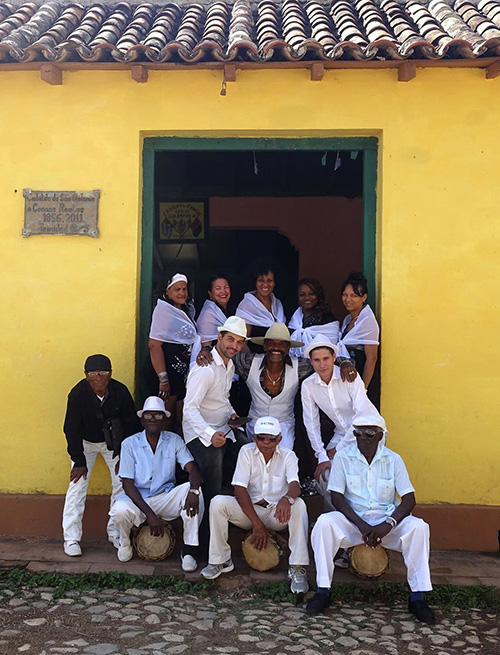 The tonada trinitaria is an Afro-Cuban musical genre native to the town of Trinidad de Cuba.
The city became one of the Caribbean's foremost sugar exporters in the early 19th century, and thousands of African slaves were brought to work in the neighboring Valle de los Ingenios. It was here that the local musical practices of African slaves, their descendants, and white peasants meshed, producing an environment conducive to the creation of creole musical forms, of which the tonada trinitaria is a prime example.
The tradition took shape among the Black urban population following the collapse of the city's sugar-based economy in the late 1840s. The first tonada groups appeared during the first war of Cuban independence (1868–78), propagated by musicians of the Cabildo de San Antonio de Congos Reales. a cultural and religious center of Bantu-derived Christian traditions.
The tonada groups consist of a chorus, a lead singer, three small drums, a güiro (gourd-scraper), and a hoe blade struck with an iron beater. The guía, or lead singer, begins by introducing the tonada (a two-to-four-line text). The percussion joins in, providing a steady rhythmic accompaniment, followed by the chorus, which repeats the tonada. In call-and-response style, the guía improvises his text based on the theme of the tonada. These themes include love, social commentary, patriotism, and puyas, which poke fun at a certain person or situation.
The tonada groups represented certain barrios (marginal neighborhoods) and performed during all-night transits through the city streets, stopping to give serenades at homes or meet with each other in competition. The tradition evolved as new generations took over and elders retired.
This according to History and evolution of the tonadas trinitarias of Trinidad de Cuba by Johnny Frías (Gainesville: University of Florida Press, 2010; RILM Abstracts of Music Literature, 2010-50525).
Above and below, the contemporary group Tonadas Trinitarias.