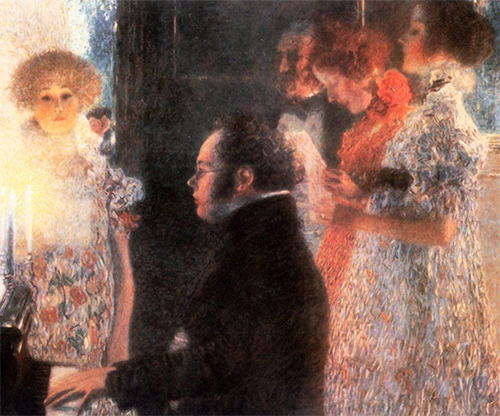 Schubert's early female characterizations stem from the tradition of the poets whose works he set.
Matthisson's Die Betende and An Laura evoke Petrarch's Laura, an idealized, unattainable woman who combines chaste purity with erotic beauty, like some of Raphael's religious figures; Schubert's settings mix hymnlike elements with irregular phrasing and expressive chromatic features, intertwining spiritual and sensuous emotions.
Another archetype–the lament of a suffering woman whose only salvation lies in transforming sorrow into beautiful song–underlies Schiller's Des Mädchens Klage, which Schubert dramatizes with an agitated D-minor section that pivots through the relative major into a final epiphany in C major.
While Goethe's Gretchen is a more profound character than either of these two archetypes, she is related to both in some ways. In Gretchen am Spinnrade she alternates between sorrowful lament and ecstatic reverie, and Schubert's setting again juxtaposes D minor and C major, but this time the minor key expresses stability and the major key intrudes as a disruptive force. The song's climaxes convey erotic power in both text and music, underscoring the link between love and death.
This according to "Feminine voices in Schubert's early laments" by David P. Schroeder (The music review LV/3 [August 1994] 183–201; RILM Abstracts of Music Literature 1996-16685).
Above, Gustav Klimt's Schubert at the piano (detail); below, Kiri Te Kanawa sings Gretchen am Spinnrade.