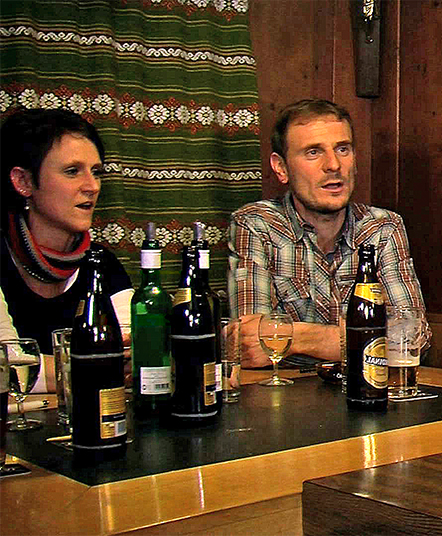 Thirty years after the making of his film series on Swiss yodeling, Hugo Zemp returned to his investigation of the particular yodel style—called jüüz—of Muotatal, a small valley in the Swiss Prealps.
Shot in the early 1980s, the earlier films presented the traditional jüüz sung at work or while socializing, in contrast to stage presentations of yodel choirs, which are federated in a national association under the direction of choral conductors.
Wondering how the situation had evolved in the second decade of the 21th century, Zemp went back and found a 37-year-old man whom he had filmed singing with his parents and sisters 30 years earlier. During his adolescence, like many teenagers, Bernhard was enthusiastic about American rock and country music (which he still performs), but when he watched the old films he felt the urge to return to the tradition that he had learned during his childhood. With five friends from his village he founded a traditional group, Natur Pur, to revive casual singing.
Zemp's new film, Swiss yodelling: 30 years later (Kanopy Streaming, 2015) shows performances in various situations, including singing with women and teaching at a workshop. Informal conversations between the singers, where humor is not absent, treat serious topics around tradition and change.
Above and below, scenes from the film.